SOLD HORSES

---
---

STINSONS CRYSTAL - SOLD $8,000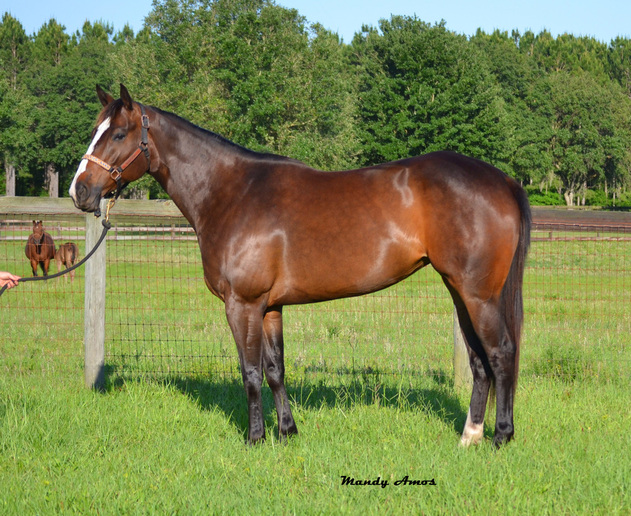 STINSONS CRYSTAL aka Crystal
4 year old brown filly sired by the legendary EDDIE STINSON
About 15.2 hands tall
Broke well and has a nice pattern on her
At her 1st big show away from home - she clocked in the 3D at the Shamrock Showdown
Has been hauled extensively and seen the sights and heard the sounds.
Crystal has been hauled to the roping pens and been around cattle.
She is eligible to run in the Futurities this year.
I have a video of her loping the pattern back from 6 months ago. This filly just came in the barn and we will have pictures and videos as soon as we can.


---
---

DELIGHTFULLY FIRST
SOLD!!!!!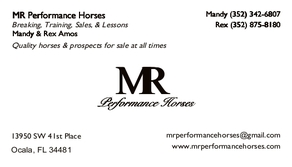 4 year old AQHA Bay filly for sale. "Lucy" Came out of the Jud Little Ranch Sale last year. She is loping the barrel pattern, has been hauled and exhibitioned. Been hauled to over night shows, eats/drinks good on the road and away from home. Not yet been entered so she is Futurity Eligible.
GREAT pedigree and priced to sell at $8,000.
We will have pictures soon and more videos too!!
SOLD - THANKS FOR LOOKING - SOLD
Sold before we could take pictures of her!

---
---
---
SOLD - DASH N SHAKE SIX - SOLD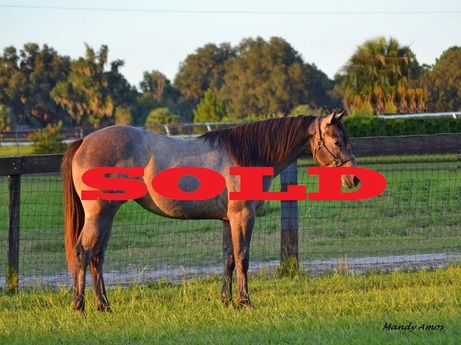 2012 AQHA Gray Filly. Sired by the famous ROYAL SHAKEM and out of a daughter of 2X World Champion DASHIN IS EASY. This filly is one of our race/barrel prospects.

She is a nice prospect with a great pedigree. Very easy to handle and work with.

Beautiful gray filly, has a great body on her to match her nice pedigree. Sixy is handled daily. Stands good for blacksmith. Lunges in the round pen. Has been ponied with a saddle and lunged with a saddle. Ready to go on with!! GREAT PROSPECT
Currently growing!! 14.1 at withers & 15 hands at hip
$5,000 - SOLD March 2014

---
---
---
DOUBLE FRENCH BID - sold to Diane & Dave Roberts - January 2014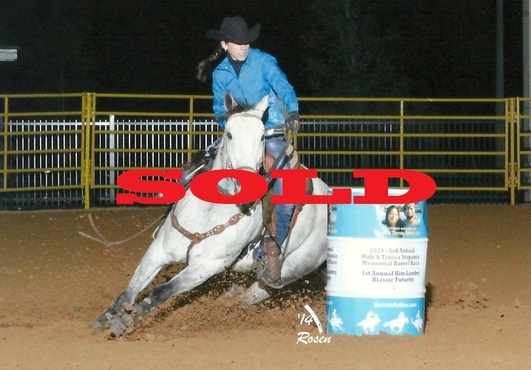 "Stuart"
2008 AQHA Gray Gelding - stands 14.3 hands tall
Grandson of Frenchmans Guy and his dam is a granddaughter of Jackie Bee!

Stuart is a handsome gelding that rides very nice. Gentle, sweet, and easy to be around. Stuart came from Texas where he was top of the 2D and just starting to clock 1D. He handles any kind of ground from deep to hard and is sure to make a great rodeo horse.
Started on the pole bending and also started heeling! Stuart will make a nice all around horse - he can go on in any direction! Stewart is a lot of fun to ride and would be a great horse for lots of riders.
$12,500


---

With limited runs Mandy & Stuart were placing in the 2D against some TOUGH horses and then clocking 1D at some real tough races!! What a NICE horse!

---
---

SOLD - STORMYS BIG GUY - SOLD November 2013
Thank you & Good luck to Jill Thomas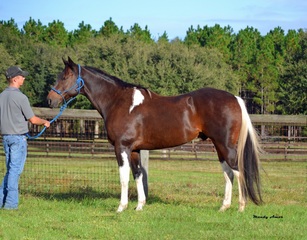 "Stormy"
2003 APHA GELDING - 15.2 hands tall Bay Tobiano
Finished 3D barrel horse - push style

Stormy is very easy to get along with. Trail rides great, camps, loads & unloads fantastically, clips, washes, wonderful for the farrier. Stormy can go without shoes, as he has such nice strong hooves or you can shoe him with no problems also. He is a great all around horse and an easy keeper. He is an in your pocket type horse. UTD on his shots, dental and worming, trimming.

SOLD $7500

---
---

Daughter of DASHING VAL - SOLD - July 2013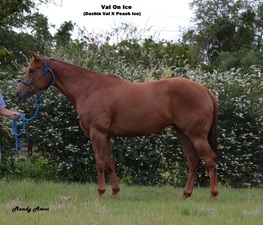 "VAL"
2009 AQHA Sorrel Filly
Had 5 starts on the track - SI 84
Val was turned out to pasture for 6 months with the broodmares since her last start on the track. She was then brought to our farm for training. We are getting her started in the western tack and look forward to a new career

This mare is very gentle and kind. She seems to be very willing and athletic. I think she will make a nice barrel prospect. We look forward to furthering her training as she is offered for sale.

We do have other prospects for sale - make sure to check out our personal horses page.

SOLD to Sue Matthews
THANK YOU

---
---

SOLD - DAKOTA MONTE - SOLD

Dakota Monte is a 1997 AQHA Registered Dun Gelding. He stands just over 15 hands. A handsome gelding that is a joy to be around in every way. He is as easy to ride as they come. Dakota is an easier keeper, very simple to ride, and so much fun to compete on. Not only is Dakota a great barrel horse - he competes in 5 different events. Pole Bending, breakaway, heading, heeling and goat tying. We use Dakota regularly on the farm to pony horses and colts.
I made my first run on Dakota - which was his 1st run back in over a year - we finished 1D 4th at the $500 Added at MC Arena. The next day we went to the End of the Trail for their $1,000 Added Halloween Barrel Bash. We would have won the 2D out of 126 horses but i kicked over the 2nd barrel leaving it to win the 2D out of 126 horses. A week later we won the 1D at End of the Trail, clocked in the 2D at Williston, and then came back to End of The Trail to place 1D 3rd behind Hoby Kight & Sally Young on her Dash Ta Fame son. Dakota clocked just out of the 2D money at KW Arena on November 18th and then clocked in the 2D all weekend long at the Fiddlers Turkey Run in Jacksonville with 400 entries on Friday, 600 on Saturday, and 400 on Sunday. Dakota is back in shape and ready to go on!! Super sweet horse with a lot of try!

Thank you & BEST OF LUCK to Rylee Thomas!!!

---
---
COOKE COUNTY TRAVLR - SOLD

"BUCKY"
2002 AQHA/FQHA Buckskin Gelding. Stands 15-15.1 hands. Very stout, heavy muscled, handsome horse. Works cows ponies horses/colts, does barrels, poles, lessons and more. Easy to haul, easy to ride, just a joy to have in the barn.

This gelding was started on the barrels about 3-4 years ago. Rex hauled him and seasoned him before selling him to some clients. An 11 year old girl owned him and competed on him for nearly two years before getting a step up (faster) horse. Bucky has clocked & placed 2D-4D depending on fitness and how much of a rider is on him.

He just recently came back into our barn (end of May) to be legged up, campaigned and sold. Bucky is a very safe, user friendly horse, that is great to trail ride and do the speed shows on. He is a very versatile horse.


---
SOLD WITHIN 2 WEEKS -Thank you Toni Wood
---

SOLD - FIREWATER ON SOCKS - SOLD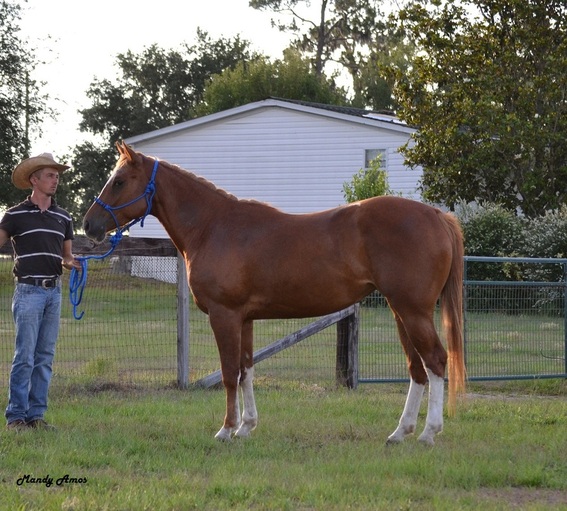 2010 Sorrel Mare sired by Chasin Firewater. Very flashy filly with a blaze, three knee high stockings and a sock.

This filly just entered our training program. She has already been started under saddle before arriving to our farm & has about 15 rides on her. We took her back to the basics and taught her to lunge and did some ground work before getting a few more rides on her.
She is shown to the left on June 2nd.

This filly is sired by a VERY HOT up & coming sire. Chasin Firewater has two foal crops competing and they are putting their marks everywhere! Running the fastest times, winning and placing!! His offspring have won the BFA Juvenile Futurity and Diamonds & Dirt Futurity as well as making their name known at several other big races and futurities!!
SOLD TO MEGAN SWINT - JUNE 15TH 2013

---
---
HAND UP - sold on March 28th 2013~ to Stephanie Broom of Buma, Texas


"UP TOWN"
2006 AQHA Sorrel Gelding. 16 hands. Raced on the track as a three & four year old - winning once and placing third earning $3,011 and getting a speed index of 93.
Up Town is very well broke, soft, supple, good with his leads, bending, and moving off leg pressure. Up Town has a GREAT foundation on him, has been started on cattle, used to pony horses, and is started on the pattern. He was hauled to lots & lots of rodeos last year for exposure. Quiet & gentle. Up Town was first entered in August and lightly hauled throughout the rest of the year. He came on really quick showing tremendous potential. Clocking well and picking up some checks - Up Town does it very easy. He is going to make a nice rodeo horse down the road - after he gets hauled and seasoned.
SOLD
A few updates on his performance:
September 30th - clocked just out of the 2D money at the Pac West Barrel Race against some tough horses
October 13th - Up Town clocks in the 1D top 5 out of 70 horses at Williston - but barely tipped the 1st leaving
October 19th - 2D 2nd place at BG Farms in Ocala
October 27th- 1D 3rd Halloween Barrel Bash behind Megan Swint on Bar Bee Steeling Sue & Sally Young on Zanes Zelda
November 7th- Tipped a barrel to win his 1st barrel race by 2/10s!!

November 14th - 1D 5th at End of the Trail against Sally Young, Hoby Kight, & Layna Kight
Clocked in the 2D at the Fiddlers Turkey Run in Jacksonville
December 16th - tipped a barrel to win 2D money at KW Arena in Keystone Heights

December 19th- winning 1D 3rd at End of the Trail

December 30th - clocked in the 2D at the big Memorial Barrel Race in Ocala

January 9th - Rex is in the saddle & clocks in the 1D at End Of The Trail

January 12th - Rex ~ runs a 15.50 at Williston! A solid 1D time!
Up Town enjoys a little vacation - watch for him again soon!


Stephanie is off to a great start with Up Town. She picked up a small check at Marshall, the first weekend she owned him. Then they came back the next weekend to get
1D 2nd place at a TOUGH NBHA Barrel Race!!
They also won the Novice Horse Side Pot.
---
---

YEAH IM JUSTA FIREN - SOLD TO KIM BALCH ~ Castleton, VT - March 2013

"RENO"
2010 AQHA Sorrel Gelding
Gorgeous 3 yr old gelding. Has a very nice way of going and is getting a solid foundation to match it. Lightly started on the Barrel Pattern.

SOLD TO KIM & ED BALCH
Castleton, VT

---
---
KATIE STINSON - sold to Up State New York ~ November 2012

2009 AQHA SORREL MARE - 3 year old Futurity Prospect
Appendix Registered daughter of Eddie Stinson. Dam is First Down Dash, Dash For Cash & Streakin Six bred. Stands over 15 hands. Well broke & loping the pattern. This mare is eligible for the 2013 Lance Graves Sales Futurity. She has a great start on her and has been hauled some. Ready to go on with!

SOLD - November 2012
Nod Reo - Up State, New York
---
MR SPECIAL N FAMOUS
SOLD - Sight unseen to Canada

FUTURITY PROSPECT
2009 Sorrel Gelding by FAMOUS JR & out of a Special effort & Chain Of Events Mare. Started under saddle & on the pattern by MR Performance Horses. Going to make a very nice horse. Size, sweet disposition, pedigree, and talent. Ready to go on with!
SOLD - to Canada on August 24TH 2012
PRIVATE TREATY

---

WIZARD OF OZZ
SOLD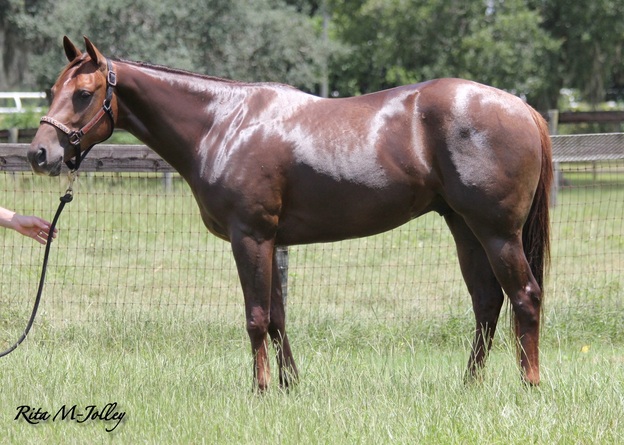 "OZZY"
2009 AQHA Sorrel Gelding. Sired by Zippy Zevi Dasher a proven son of Dash Ta Fame and out of a double bred Doc Bar mare. Ozzy was bought in the spring of 2012. We look forward to working on some basic foundation work to prepare him for the pattern & then introducing him to the barrels.

Ozzy entered our barn mid March. He had a few weeks to settle in & started training the 1st of April. Ozzy has a nice handle on him. He picks up his leads, moves off leg, is soft in the mouth, stays between the reins, and has a good stop. Ozzy has hauled to local jackpots for exposure. Has been hauled to exhibition. Real snappy colt, who loves his job. Started on cattle & the pole pattern. Cant say enough good about this colt! ABOVE PHOTO: Ozzy shown on August 15th


---
SOLD AUGUST 24th 2012- Cassidi Blinstrub of Ocala, Florida

---


2010 AQHA Sorrel filly sired by FIREWATER FROST and out of a daughter of BULLY BULLION. She is paid in full to the Future Fortunes. We have always loved the Firewater Flit bred horses and look forward to having a filly with a strong - race bred bottom side.
Sold sight unseen to Canada, but will remain with us to be started under saddle
PEDIGREE:
http://www.allbreedpedigree.com/itsy+bit+a+flit
SOLD ON AUGUST 24TH 2012
---
---
SOLD FIREWATER FRANKEE SOLD


Firewater Frankee - SOLD June 5th Sight unseen
Shipped to his new trainers/owners in Canada first part of June

December 1st - Terrel, TX - picking up a check

2008 AQHA Buckskin Gelding. Frankee stands about 15 hands. He was purchased in the middle of August 2010 then picked up the last week of September. Purchased from Mindy Hayward of Michigan, she bred and raised him. Frankee was broke in the fall of 2010 and hauled everywhere. He is very soft, supple, has a solid foundation & is sure to excel in anything he does. Frankee has been hauled to a lot of jackpots and rodeos to see all the sights, hear the sounds, and for experience hauling.
He was turned out for some of March, all of April, & all of May for a break while Mandy had a sinus surgery. He came back just where he left off and is turning into a super individual. We have ponied him off horses, used him to pony horses, working cattle off him, as well as dragging tires around. Frankee is very broke! Rides like a little show horse, great with his leads, moves off leg, has a nice stop and collects. He is loping a pretty barrel pattern and has gone through the poles a few times. We will start getting him on the clock and asking for speed. Frankee is Futurity eligible and is PAID IN FULL to the Future Fortunes & the Triple Crown 100 as well as being eligible for the JB Quarter Horses Incentives.



---
Frankee is sired by the World Champion CHASIN FIREWATER. Still competing, Chasin has won at all levels of competition and is also running on the Pro Rodeo Circuit. Frankee is out of a daughter of LUCKS CHIC GAY. Lady Lucky Jet is his dam. She was a proven 1D horse. Frankee possesses all the attributes to make a winner! Superb proven pedigree, conformation, mind, and athletic ability! Frankee and has a very promising future as a Barrel Futurity horse that will also be broke enough for any discipline.

Frankee has been hauled all summer to jackpots, rodeos, cattle sortings etc. He rode around great at the fair rodeos with lights, music, ferris wheels, etc. He has been on the clock a few times, and is ready for more speed. Frankee has been brought on slowly with a lot of foundation work and training and will debut in December.

Frankee entered his first jackpot on December 1st. He clocked a second & a half off at Terrel, TX to win the 4D. Two days later he picks up another 4D check at the Lucky Lotto Christmas Jackpot in Big Sandy, TX. He did a great job at both of those jackpots specially for his first time running inside. He was run cold turkey, had never been in the arenas before, and had no exhibitions. Our next stop was the BFA Juvenile Futurity in Oklahoma City! He was just out of the 2D money in the 1st go round. Frankee handled the long trip, the new settings, stalls, and is showing a lot of promise to be a really nice horse. Once back to Florida Frankee went to the SBRA Futurity in New Symrna Beach. Another new arena - he had several baby bobbles & tipped a barrel to be just a half second off the winner.

Paid in full to the Future Fortunes, Triple Crown 100, & is eligible for all the JB Quarter Horses Incentives.

SOLD
Additional training, hauling, & campaigning is available & price is subject to change without notice



---


SOLD Briscos Lucky Chance SOLD
Sold on January 9th, 2011


"Sonny" is our newest addition to the farm. He is a 2001Sorrel APHA Breeding Stock Sorrel Gelding. We got him in the middle of November. In the past Sonny had been used for trail riding, speed shows, and as a kids horse. He is very quiet and laid back. We will be using Sonny in our lesson program, as a pony horse on the race track, working cattle as well as getting him going more on the barrel pattern.


We have some pictures & a video for you to watch, make sure to follow his progress!






---
---

SOLD Frenchies Single Guy SOLD
Sold December 9th, 2011 - Sight unseen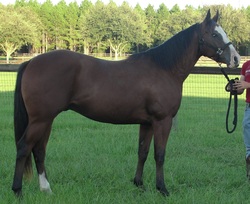 2009 AQHA Bay Gelding. Purchased on May 11th 2011 from the breeders in Kentucky. This horse is sired by BHR Frenchies Socks and out of an own daughter of Tiny Guy. He possesses all the attributes to make a winner! A superb proven pedigree, conformation, mind, and athletic ability! Look for pictures of his sire below.
He has had over 30 days of training. Swinger has a great foundation. Is soft in the face, started moving off your leg, side passes, two tracks, has a great stop, and best of all he wants to please. This colt is the nicest one we have broke all year. He retains everything you teach him, is very quiet, and super classy. We have hauled him to jackpots, he has stood tied for hours, and we even hauled him to a couple cattle sortings. He is lightly started on cattle and is going to be very worky!! We can not say enough good about this colt. He has walked and lightly trotted the barrel pattern a couple times, is bending through the poles, has been ponied, and is ready to go on with.
Quick update on his sire BHR FRENCHIES SOCKS
He has a very limited number of foal crops with limited babies out there. His first crop included Joyces Guy whom was ridden by Talmadge Green to nearly $20,000 in earnings. The next crop included the Futurity Stand out - KISS THIS GUY whom has won numerous futurities, jackpots, and has earned over $90,000 in his first year of competition. He also had a 2011 Florida NBHA State show 1D qualifier as well as many other jackpot money earners. This December started the next foal crop to compete. They debuted at the 2011 Barrel Futurities of America in Oklahoma City. Derek Piel rode GO TOO GUY to a top 10 finish in the 1st go of the Juvenile & a Top 12 Finish in the Average, while Ryann Pedone rode HOLLAND GUY to a Top 10 finish in the Average!!! This sire is just starting his stallion career and has some FABULOUS BABIES out there. Please make sure to check out his website -
www.bhrfrenchiessocks.com
SOLD
SOLD
Thank you Jim & Stacey Warner of South Carolina
---
---

SOLD Cooke County Travlr SOLD
Sold November 2011


TWIST
2002 AQHA Buckskin Gelding. Twist stands a little over 15 hands tall and has great conformation with a compact build. Twist first came into our barn in the middle of January owned by Lori Edge. He was in for a thirty day tune up and schooling followed by a thirty day evaluation on the Barrel Pattern. Twist is a great ride, he is really soft in the face and bridles up with ease. He is a nice mover, good with his leads and very athletic! After the thirty day evaluation on the pattern we found that Twist was a push style horse that needed to be hauled and seasoned, his owber was looking for a finished free runner. Lori offered Twist for sale & Rex purchased him.

Rex is very busy all year at McDuffee Quarter Horses with Breeding & Foaling Season, but manages to keep Twist legged up for competition. Rex looks forward to competing in Team Penning, Sorting, and possible the Florida Ranch Horse shows with Twist as well as the Barrel Racing & Pole Bending.

Rex starting hauling Twist and has since been clocking in the 4D at some big shows, and 3D at the local shows. He has a lot of fun riding Twist, but enjoys being able to watch clients get riding lessons on Twist as well. He is such a nice horse to ride we give all sorts of lessons on him. From beginner, horsemanship to barrel racing lessons! We recently started hauling Twist to work cattle and he is doing great. He is bred to work and is very handy with the cows.

SOLD SOLD
Thank You Karin Augit & Raegan Sapsford

---
---

2007 AQHA Dun Mare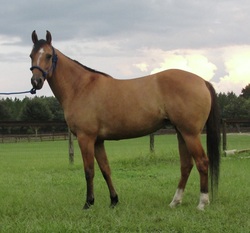 SOLD October 1st 2011
4 year old Dun mare in for breaking & training. She is Hollywood Bill & Doc O Lena bred.
Has a couple weeks of ground work, followed by lunging & round pen work. Been rode a couple times & doesnt have any buck or hump to her.


Offered for sale: $1,500 - SOLD OCTOBER 1ST 2011



---
---

Tanya Konopinski & Dos

Tanya purchased this palomino gelding from us in the end of May 2011. His name is ME BINGO and he is known around the barn as "DOS". We sold Dos right before we got married and bought a ten acre farm. It was very hard to do, Dos was a very special horse to us. He came in with some problems & issues and after many hours, and miles in the saddle we brought Dos back to the top of his game, winning several 1D & 2D checks on him week after week.






SOLD WITHIN 24 HOURS



Sold - May 2011
Dos was sold within 24 hours of being listed for sale on Barrel Horse World. Mandy shipped him to Pennsylvania to meet his new owners & show them how to ride him. Tanya trail rides Dos most everyday as well as taking him camping on the weekends. She picked right up where Mandy left---- winning!!

Tanya has won the 1D at several IBRA Jackpots as well as winning the Pole Bending events too. She has picked up several checks on him, again and again!

In August Tanya took Dos to the NBHA Super Show- Colonial Nationals in Lexington, Virginia. They ran a pair of 15.9's each day to sit middle of the 2D.

The next weekend they run a 15.9 at an IBRA show to win the 1D.

Its so nice to get text messages on a regular basis with updates on their winnings and how much she loves this horse!

We could not have asked for a better home for our boy Dos! Thank you Tanya & Kevin

---



Wire Me Some Gold- Owned by Cammy Clifton & Jerry Alexander - SOLD December 2010

"I have to say Jerry and I couldn't be happier with the possibilities this mare WIRE ME SOME GOLD is showing us! Anyone looking for nice horse flesh really needs to check out ur farm!! Thank you Mandy and Rex for your hard work and dedication to having great horses and prospects. Can't wait to see what you guys have for the up coming years!!!!"

Update on my baby "wire me some gold" exb her yesterday at the district nc03 show!! One tuff district !!! A 15.2 won the open. " kanz" slid in the 1d with a 15.615!!! Wooo hooooooo !!! Yea she's got skill now I just have to hang with her!!! Lovn me some "kan kanz!!!!!!"

Got to give an update on my baby "wire me some gold" Aka "kanz" iv not been riding her much due to some health issues Iv had. Well let me say we took her to kings mtn jackpot last nite and exb her!!! She worked awesome!!!! I couldn't ask for a better horse in the making!!! She's all buisness and great at it.. Can't thank my mom enuff for finding her and mrperformancehorses for selling her!!!! A special thank u to my boyfriend for put n up with all the ups and downs of barrel racing!



---


HeWillFrostYourGlass
SOLD - August 2010
2007 APHA Palomino Gelding. Sired by Sun Frost Wonder and out of a AAA Racing Mare. Paid in full to Future Fortunes & Triple Crown 100. Bought as a yearling, Ed, was raised, broke, trained, patterned, and prepped for the Barrel Futurities by MR Performance Horses. Hauled to team penning, team sorting, practice pens and rodeos, Ed has a gorgeous pattern on him, and makes it look easy. With a ground covering stride, Ed gathers up for his turns and really uses his hind end.
Sold on August 1st to Rebekah & Diana Sheubrooks!
Rebekah is currently running Ed and winning money!
Rebekah & Ed pictured


---