** SOLD SOLD SOLD **
SV MISSIN MY STOCKIN
2015 AQHA Filly by BHR FRENCHIES SOCKS out of a daughter of HOT COLOURS
​"Felicia" ~ Paid in Full to the FUTURE FORTUNES
Full set of clean x-rays taken on 11/9/17
​Priced at $15,000
***Price will increase after January 1st when she goes into a training program to prep for Futurities***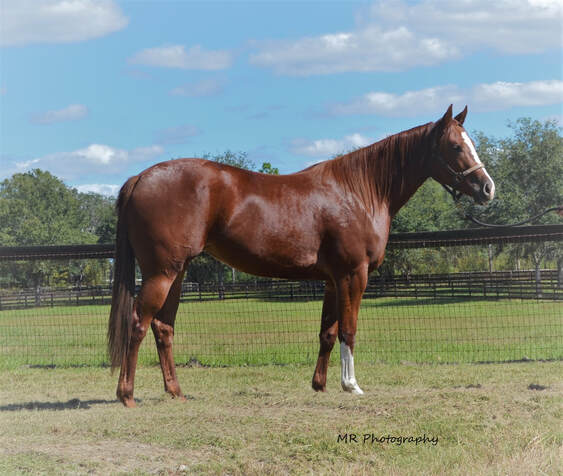 This is one of our personal horses. Felicia is a real deep red color - she is beautiful. Stands about 15 hands right now as a 2 year old and is still growing. She is going to be a nice sized mare about 15.2 hands. We have had several of the BHR Frenchies Socks over the past few years and just love them all. ​ Felicia is no exception, we love her! ​She is doing great. Walk, trop, lope, breaks at the poll, leg yields. Felicia is loping pretty circles and has a great stop on her. This filly is one of my favorite to ride in the barn. She rides in a snaffle. She has a lot of feel and is a joy to ride! We have been doing exercise around the poles & barrels and hauled her to several arenas

---
Video above taken on 11/25/17
​(Don't mind our 2 year old daughter dragging a halter & leadrope around in the video)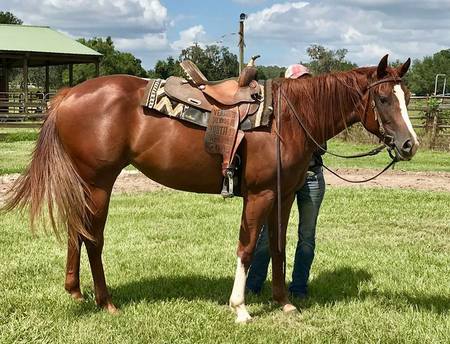 We have started hauling Felicia to rodeos and jackpots to see the sights! She has been doing great. Loads good, stands quietly, eats & drinks on the road. This is by far one of the coolest fillies I have rode. She is definitely one of my favorite horses in the barn right now. We will be starting her lightly on the barrel pattern and getting her prepped for Futurities if anyone wants to take her that route. She has had next to nothing done on the barrels and really has some natural ability. Maybe 2 weeks of combined barrel work.

​Felicia was turned out for most of October and November. We just brought her back in the barn the middle of November to get back in a training program. She enjoyed a nice 45 day break to grow some more.
​
---
This is the nicest baby we have had in the barn in a long time. We love her. So much class & try
---
BHR FRENCHIES SOCKS needs no introduction. He now has offspring earnings of over one million dollars. He has sired an NBHA Open World Champion & BFA Super Stakes Slot Race Champion. BHR FS has sired several Futurity winners, open show winners, derby winners, pro rodeo winners etc!
---