Maximum Gold and Mollie Akes are striking GOLD!!!
They have been together just 2 months and have won nearly $5,000 a 2D State Title, a saddle and so much more. I am so excited and proud for this dear team. This is just the beginning for them!!
Keep up the great work Mollie!! Best of luck to you & Max as well as Madeline at Youth World on him!!

MAXIMUM GOLD - SOLD
Owned by MR Performance Horses
Mandy & Rex Amos



"Max"
Year foaled: 2000 PBHA Palomino Gelding
15.1-15.2 hands
Owned by: MR Performance Horses
Purchased in late September of 2013. We started with Max at the local jackpots - working out a few kinks. We then started 2014 off with some nice 1D runs & never looked back. Max has made quite the resume from January through November. Mandy bought her WPRA Permit for the 1st time in mid January, placing at the 1st rodeo they entered & filled their permit in less than 60 days!! Max was very competitive in the South Eastern PRCA/WPRA Rodeo Circuit. When the season ended the last day of September - Mandy & Maximum Gold finished 13th for the Year and missed making the CIRCUIT FINALS by $600. He was a solid check getter at rodeos in Florida, Tennessee, North Carolina, Mississippi, Arkansas, Louisiana & Alabama. He has already placed at Rodeos for the 2015 Season and is sitting top 10. Watch out for this team starting in January. Maximum Gold had a well deserved vacation getting the entire month of December off and half of January.
2014 Earnings (January 17th - November 29th) $10,889.33

2015 was a little slower for Mandy & Max - Mandy stayed close to home and rode as long as she could pregnant, then put away her spurs. Max placed at several rodeos throughout the spring & summer. Max placed in the 1D Average in April at the Pac West Barrel Race. He tipped a barrel to have won the Kissimmee Pro Rodeo, placed at the NBHA State Show - Top 10 in the TOUGH finals. Placed 3rd at Davie Pro Rodeo, placed 6th at Ringgold, then won a couple jackpots as well this year. Shelby Mills catch rode Max at the September Pac West Barrel Race. She had 2 smoking 1D times and clocked in the 2D the last day. Shelby had never sat on Max before! She placed 1D 4th in the Average with her borrowed mount. Shelby rode Max two weeks after the Pac West and placed at a $2,000 Added jackpot and then went on to finish 3rd at the Branford Guerney Rodeo winning almost $600 for the weekend. Jenna Dominick ran Max at the Ocala Rodeo grounds a little while later and finished 1D 2nd - she had never rode him before either. Max is fun. Just keep him legged up and ready to go. He is very low maintenance and an easy keeper. SOUND, Max is sound. I don't believe Max had much riding and specific work before he was 10 years old. My friend put the barrel pattern on him and lightly hauled him for a couple years, and he has been with us for 2 years. Max is 15 but acts and rides like a 7 year old.

He is completely seasoned to hauling the rodeo roads. He is easy to haul and eats well on the road. Stays in the temporary fences, runs in all sorts of pens and circumstances. When someone is upset about the footing - we are usually excited. Max is awesome in set up pens, small buildings, big outdoors, deep Florida sand to the hard hard pens!! Max can handle it all. He really is a blast to run at the rodeos. He is super consistent and honest. Very user friendly in the pen.... you can usually mess up and he will just keep on doing his job. I have rode bad or poorly plenty and he still takes care of me!

Max gets along great with other horses, or separate. He is fit and ready to go. He is a bit strong on the ground and to ride around. With that being said he needs a confident and firm hand. He does get an escort by the gate, or basically someone to hold him still by the pen or alley then he gets cut loose. He has a SUPER easy program and I have hauled all over the southeast to rodeos by myself and he is easy to manage.

Max is a very nice horse and only for sale with us expecting our first child. I have no doubt in my mind that he can go and win a lot of money in the next 5 years!! After the baby is born, he may or may not still be for sale!!

Price to sell at $25,000

Maximum Gold is offered for sale to a very specific home ONLY. He is very easy to compete and makes the same run again and again!! Max needs a person on the ground or a pony horse to go in the pen EVERYTIME. He has a very simple routine that is so easy to manage! Several videos show how we enter the arena. If you want to see more videos search "Maximum Gold" and you will find LOTS and LOTS of videos!!
---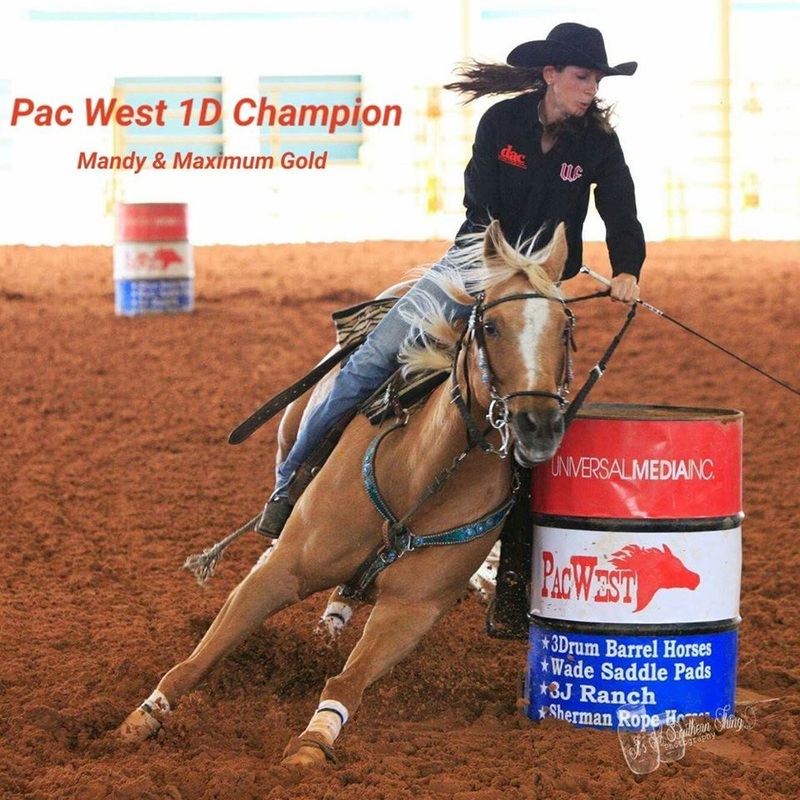 Max winning a 2nd place at the Pac West on 4/8/16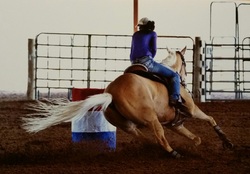 Welcome back Maximum Gold & Mandy - Hello 2016!!
Mandy & Max make their debut run back in the middle of January. It took Mandy a few runs to get her groove back from having a baby on December 6th. Maximum Gold enjoyed a nice vacation. He was off for most of September, all of October, November & December and some of January.
Tipped the 2nd barrel to have won the 2D on 1/10/16 out of several hundred (Would have paid $400+)

Clocked bottom of the 1D at Trenton NBHA - caught the 1st barrel leaving 1/16/16
1D 3rd at MC Arena with a 15.9 on 1/22
1D 1st Key To Heaven with a 15.223 his 3rd run back! 1/24/16
District 6 NBHA - Would have been 1D 2nd but barely caught 2nd barrel leaving it (15.50!!) 1/30/16

1D 4th out of 100+ horses at Key To Heaven Ranch 1/31/16
2D 6th (10th overall) out of 300 horses at the 3 District NBHA Show on 2/6/16
Lakeland Pro Rodeo barely tipped 1st to just miss a check 2/13/16
Dade City PRCA barely tipped 1st to have just missed a check 2/20/16
Key To Heaven - wins the 2D trying a new bit 3/2/16
1D 1st Ocala Rodeo Grounds 3/8/16
2D 2nd $500 added WPRA Race Ocala Rodeo Grounds 3/11/16
Casey Stucker rides Max for the first time EVER!! 1D 2nd Ocala Rodeo Grounds 3/15/16
Casey Stucker rides Max for the 2nd time! 3rd at Lake City Rodeo 3/19/16
Nashville, GA PRCA Rodeo in the MUD - 2/10s from placing 3/26/16
Clocks 1D with a 12 year old kid riding him for the 1st time!! 4/1/16
Makes an amazing exhibition run with a 12 year old kid - he was great! 4/2/16
1D 2nd out of 200+ horses -Angel Miller Benefit Race 4/3/16
1D 1st in the Slot Race - at the Angel Miller Benefit Barrel Race 4/3/16
1D 2nd out of 264 at the Pac West Barrel Race 1st Go 14.307 4/8/16
1D 15th out of 300+ entries Pac West Race 2nd Go 14.586 4/9/16
1D 14th out of 250+ entries Pac West Race 3rd Go 14.575 4/10/16
1D AVERAGE WINNER OF THE PAC WEST BARREL RACE
sold

Max has placed in the 1D & 2D with his new owners!!!

---
Maximum Gold Accomplishments 2015

Starts January 1st in the Top 10 of the Southeastern Circuit Standings

Lakeland PRCA Rodeo January 16th - Top 15
Windy Acres Jackpot - Max wins the 1D by 4/10s (Good prep for Homestead)
Wauchula PRCA Rodeo - January 24th 10th place
Homestead PRCA Rodeo January 25th 12th place
Brighton PRCA Rodeo - February - 1 spot from placing
Down South Rodeo - February 7th - 3rd place
Kissimmee PRCA Rodeo - February - Tipped to place
End of Trail Jackpot - February 22 - run a 15.3!!
Arcadia PRCA - 1 spot out of placing - 90 entries
Ocala PRCA - a 16.9 places and we were a 17.0!!
MC Arena on 4/3 - 1D 2nd out of 55 entries
Pac West 4/10 - 2D 5th (14.90)
Pac West 4/11 - Clocked 1D (14.60)
Pac West 4/12 - 2D 1st (14.7)
Pac West AVERAGE AWARD 1D 4th Place!!
Williston Jackpot 4/18 1D 3rd
Tipped at the Kissimmee Rodeo to have run one of the fastest times!!
1D 4th at Williston - hand rode with 100 entries
Place 2D 10th in the first go of the NBHA State Show 14.74 winning $481
Come back in the finals to finish 1D 9th for $805
Placed 3rd at Davie PRCA Rodeo!!
Placed 6th at Ringgold, GA PRCA Rodeo
1D 1st at Ocala Rodeo Grounds 50+ entries
1D 1st Ocala Rodeo Grounds
1D 2nd at MC Arena
Clocked 1/2 second off at the Ocala PRCA Rodeo after dragging over the 2nd and loping home
Shelby Mills catch rides Max at the PAC WEST 9/18-9/20

1D 4th in the Average!!!
Shelby & Max 2D 2nd at $2,000 added jackpot in Live Oak winning $363
Shelby & Max 3rd at Open Rodeo winning $305
Jenna catch rides Max and wins 1D 2nd at Ocala Rodeo Grounds
TURNED OUT TO PASTURE THE BEGINNING OF OCTOBER!!








---
| | | |
| --- | --- | --- |
| Maximum Gold shown winning 3rd at the Kissimmee Pro Rodeo!! | Maximum Gold winning 4th at Savannah, TN Pro Rodeo - in the rain and mud! | Mandy & Max winning the Black Rodeo in Southhaven, Mississippi by 2/10s!! |
---
---

Maximum Gold shown above winning 3rd out of 930 entries at the NBHA State Show in the 1st Go Round.



Max also shown to the right winning the Fl 08 NBHA Show on May 24th at Live Oak with 100+ entries.


---

Mandy & Maximum Gold shown below placing in the 1D money
Friday & Sunday at the PAC WEST BARREL RACE!!

---
2014 Earnings (January 17th - November 29th) $10,889.33
| | | |
| --- | --- | --- |
| Placing at the Lakeland Pro Classic PRCA Rodeo | 1D 3rd out of 325+ horses!! Triple District NBHA Show | Placing at the Williston PRCA Pro Rodeo |





MAXIMUM GOLD - clocking 1D in the video to the left

January - Struttin Your Stuff Jackpot




Maximum Gold Accomplishments Oct 2013 - Nov 2014:
October 2nd - 2nd jackpot together Mandy wins the 2D at End of The Trail -Lara Dewees won the 1D on Wonders Fire Easy running a 15.6
October 11th - clock a half second off at Palatka Barrel

October 16th - Place in the 2D at End Of the Trail
October 18th - Brittany Dallaire, "catch rides" Max at the Guerney Rodeo on Friday and wins 3rd place out of nearly 40 horses!!

November 6th - clocked 1D

November 23rd - was 1D 6th with over 100 riders at the $1,000 Added Jackpot
Had most of the month of December off ~ vacation!

December 28th - finished 1D 3rd behind Emily Jackson (NEW ARENA RECORD) & Sally Young (1D 2nd)

January 4th - Clocked 2D at Stopanio Memorial Barrel Race
January 5th - Clocked 1D at Stopanio Memorial Barrel Race - but tipped the 3rd leaving!
January 12th- Clocked 1D at the Strut Your Stuff $2,000 Added Barrel Race - 11th overall out of 193
Mandy buys her WPRA PERMIT to try the PRO RODEOS!!!

January 17th - Mandy & Max debut on the Pro Rodeo Circuit - running in slack at the Lakeland Rodeo Classic
January 18th - Mandy & Max place at the Lakeland Rodeo Classic - WINNING 7th PLACE & $328!!

January 24th - Barely tip the 1st leaving to place 1D 2nd at MC Arena - running a 15.73!!
January 26th - have a very nice run at Homestead PRCA Rodeo - top 15 of 80+ horses
February 1st - Win 1D 3rd out of 325+ horses at the Triple District NBHA Show!! WPRA Approved $354.00

February 7th - Run in slack at the PRCA Rodeo in Williston - Placing 8th/9th out of 80 horses!! $178.00

February 16th - 1D 4th out of 80 horses at Ryland Ranch Jackpot $195
Place at Arcadia PRCA - $480 filling their WPRA Permit 3/7/14 (LOTS OF ENTRIES!!!)

Place at Montgomery, Alabama PRCA Rodeo!! Split 6th place earning $567!!!! 3/15/14 **Lots of tough horses!!

Place at Fort Myers PRCA Rodeo 3/23/14
April 4th - Finished 1D 3rd at Day 1 of the Pac West Barrel Race in Ocala

April 5th - Tipped a barrel to have placed in the 2D money in the Open and to have won the 2D in the SLOT RACE (Would have won $550 and placed in the 1D Average for the weekend - DARN Barrel)

April 6th - placed 1D 6th at the 3rd day of the Pac West Barrel Race!!
2 weeks vacation!

May 24th - won the District 08 NBHA 1D 1st by 1/10 at Live Oak with 111 entries!! Winning $274!!

May 26th - won 1D 4th out of 193 entries!!! Winning $450 $5,000 Added Barrel Race

June 1st - tipped a barrel at the PRCA Rodeo in Clarksville TN to place!
June 6th - win 3rd at the PRCA Silver Spurs Rodeo in Kissimmee, FL winning $671
June 8th - win 2nd at the PRCA Rodeo in Fletcher, NC winning $349
Took a weekend off before heading to the NBHA State Show
June 19th - 3rd out of 930 entries at the 1st go round of the NBHA State Show - $1,319

Tipped a barrel in the finals to have won the 2D State Title & $2,600!
June 27th Placed at DAVIE PRO RODEO
July 4th - Clocked 1D at Perry, GA NBHA Super Show 1D 19th out of 800 horses!!
July 12th - eased threw at End Of The Trail - clocking 1D
July 18th - Placed 4th at Savannah, TN PRCA Rodeo - $250
July 19th - won the Southhaven, Mississippi Open Rodeo by 2/10s - $858
July 25th- Philadelphia, Mississippi PRCA Rodeo - 3rd place winning $316
July 26th - 5th Annual Gulf Coast Black Rodeo - Max wins the long go, the short go and the average!!! A clean sweep!! $600+
July 31st - Springhill, Louisiana PRCA Rodeo - 7th place $127
August 1st - Winnsboro, LA - barely tipped the 2nd barrel leaving it to have placed top 5!!!

August 8th - Lauderdale, Mississippi PRCA Rodeo - 4th Place winning $276

August 9th - Crossett, Arkansas PRCA Rodeo - top 12!! Only paid 10 places

August 12th - sitting 17th in the Southeastern WPRA RODEO Circuit - started the year in mid January by purchasing our permit and filled it in March.

2 weeks/weekends of vacation!! Well deserved
Ocala Pro Rodeo - 1st run back in 3 weeks and he has a pretty run but doesnt clock. He was6/10s off the winner with out firing (Still proud of him)
Williston Jackpot Runnin For The Ca$h - $1,000 Added jackpot - clocked 1D (.7 got money and we were an .8 out of nearly 200 horses)
Okeechobee PRCA Rodeo - Labor Day - win 6th place for $295!! That was a TOUGH rodeo!!
I almost cried when i was on vacation in NY visiting the family - I missed the books for the NC $5,000 added Rodeo!

Davie PRCA Rodeo - September 6th - grabbed the last check! 8th place for $41
Sitting 15th in the Southeastern Circuit standings as of Sept 1st
September 12th - 2nd place at Jonesboro, Arkansas PRCA Rodeo winning $576
September 13th - Hamilton, GA PRCA Rodeo - 5th place winning $150
October 1st sitting 13th in the circuit

Finished the 2014 Rodeo Season in 13th place. Missed making the Circuit Finals by $600
October 2nd - Bonifay PRCA Rodeo - Just out of placing
October 3rd - Guerney Rodeo (Open Rodeo) in Maclenny - 2nd place
October 10th - $500 Added End Of The Trail WPRA Jackpot 1D 3rd
October 17th - Indiantown PRCA - 6th Place $588
Weekend off
November 1st - Arcadia PRCA Rodeo 7th Place $304
November 2nd - Okeechobee FBRA 2D 1st Place $240
November 7th - End Of Trail $1,000 Added 1D 2nd Place $283
Weekend Off
November 22nd - Inverness PRCA Rodeo 10th place - 82 entries
Maximum Gold gets the whole month of December off to REST - well deserved